Muzaffarpur Municipal Corporation(Bihar)
Recently, Muzaffarpur Nagar Nigam has sent all commercial Electricity users, approx. 16821 users, notice for the New and Renewal of Trade License in Muzaffarpur. The office has decided to charge the Trade Licence fee at least from 2015-16.
The Minimum charges for the Trade License is Rs.1000/-.
Charges may be up to 2500/- for Banks and other offices.
Here are the requirements for the Documents :
All the Above Documents are as per form.
Note – You can also get form at Nagar Nigam Premises and can also use by printing it.
Just visit Nagar Nigam office at counter no 5 and submit it for new Application and get challan paid. After the Payment you will get receipt and wait for 7 to 10 days to download Trade License. Here is the website link :
DOWNLOAD TRADE LICENCE MUZAFFARPUR NAGAR NIGAM
Search for the certificate by entering your mobile number.
Sample Trade Certificate for reference: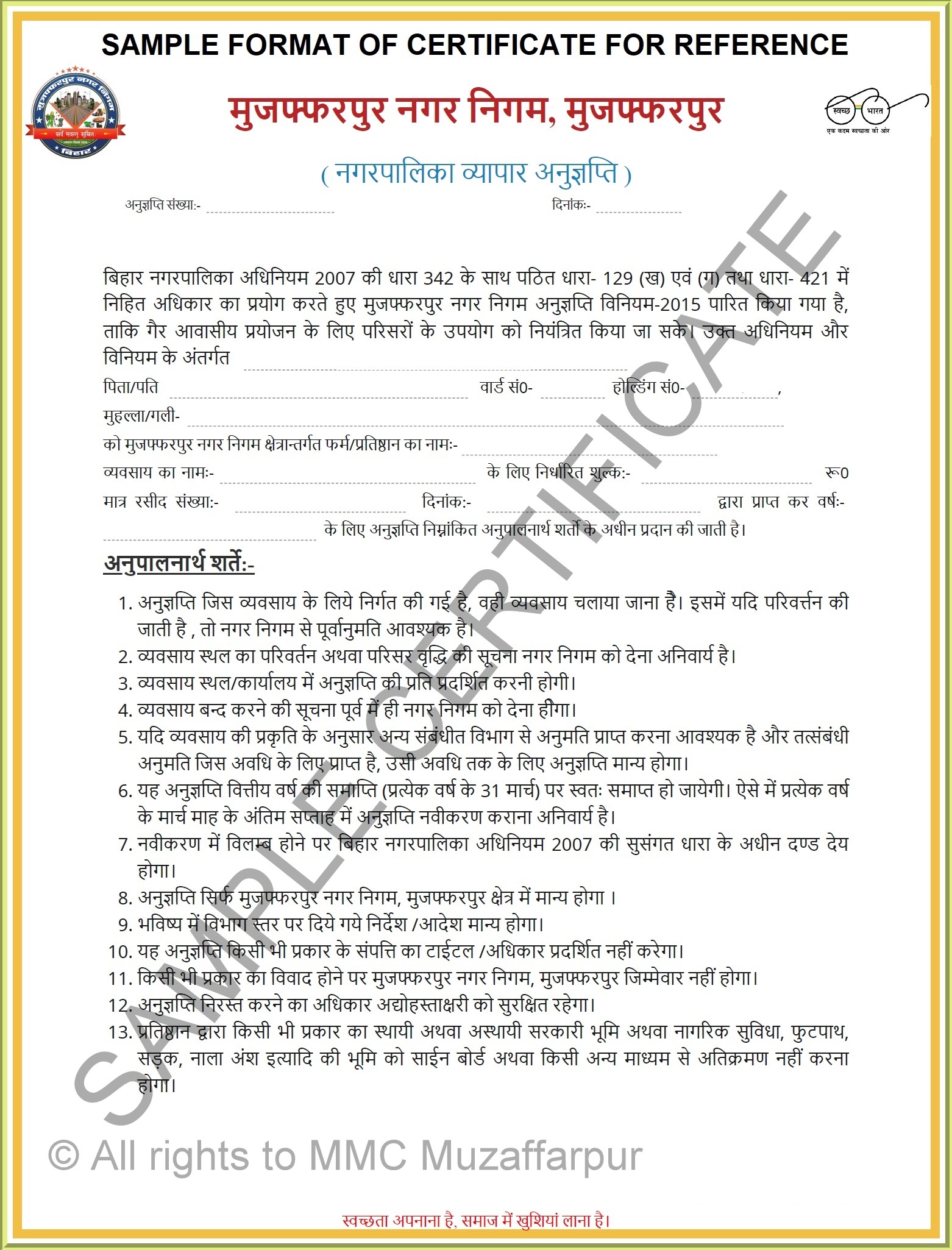 Now in case of renewal of Trade License –
Just Pay the Charges as you are already enrolled, in case you have missed some year due to covid pay the remaining amount as there is no penalty right now.
In case you have no time and want to get Trade License, you can also visit :
Mani Square Eservices, Kalambagh chowk
Muzaffarpur , Call – 9507750100
Here, we will help you in Documents and online submission of Trade Licence and Downloading and also other services like GST, MSME, Udyog AADHAR, Jeevan Prammaan Patra, Digital Signature etc and many more.