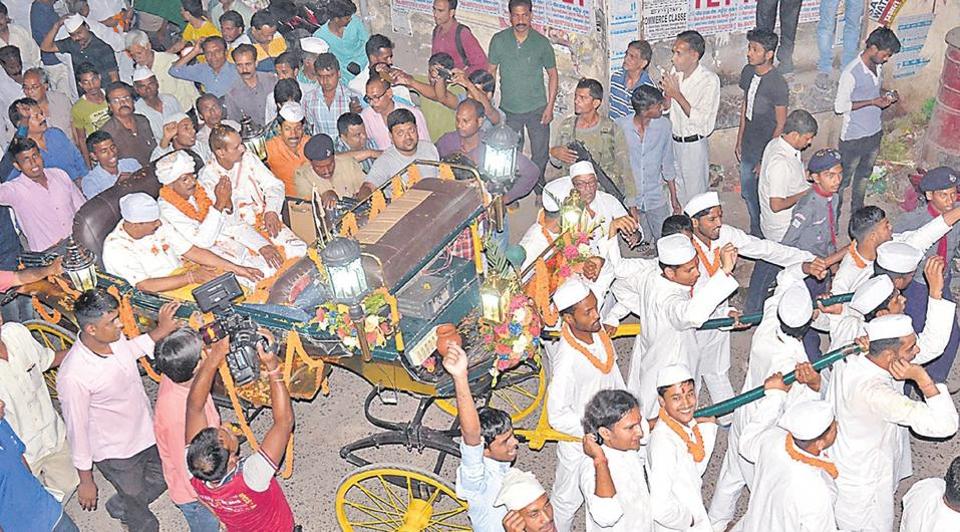 Muzaffarpur virtually returned to Gandhi era on April 10, 2017, evening when the Mohandas Karamchand Gandhi look alike arrived at Muzaffarpur railway station by a special train in a revisit of April 10, 1917, accompanied by J B Kriplani and Raj Kumar Shukla look alikes en route Motihari, headquarters of East Champaran district in North Bihar. Hundreds of people were present on the Muzaffarpur station premises to welcome Gandhi reviving memory his Champaran Satyagrah.
They reached L S College, Muzaffarpur, by a Bagghi where the Gandhi look alike urged the younger generation to shoulder the responsibility of taking an independent India forward. Shukla addressed the gathering in Bhojpuri. The Gandhi look alike woke up at 4 am on April 11. He took bath at 7.20 am at a well located on L S College campus and then met the local lawyers. Bihar government is celebrating the Gandhi's Champaran Satyagrah centenary on a massive scale.
It is 7 pm on Monday. A man who has tailored himself on Mahatma Gandhi's sartorial preferences in his early days, alights from a train at Muzaffarpur Junction. Donning a traditional Kathiawadi 'pagdi' (headgear), kurta and dhoti,he is escorted to a cart parked outside the railway station by large number of students.
Thus begins the recreation of a historic journey undertaken by the Mahatma 100 years ago.
Followed by nearly 20 bullock carts and a large number of people on foot, the cart— pulled by students — passes through Muzaffarpur localities like Motijheel, Harisabha Chowk, Tower Chowk and Kalambagh Chowk, before reaching LS College (formerly GBB College) here.
Called the 'Heritage Walk', the procession was, in fact, an attempt by the district administration to recreate Mahatma Gandhi's visit to the town about a century ago. The recreation of the event was part of the year-long centenary celebrations of Gandhi's Champaran satyagrah.
Gandhi had spent five days in this north Bihar district in 1917 and met local residents as well as prominent freedom fighters, before leaving for Champaran to espouse the cause of indigo farmers, who were being exploited by British colonial planters .
It was in Champaran that Gandhi had started satyagrah, a non-violent movement against the then British rulers.
Tirhut commissioner Atul Prasad was present at the historical 'Gandhi Koop' (Gandhi Well) on LS College premises, to welcome the participants of the heritage walk.
He said Gandhi, who had come here on the call of a farmer from Satvaria village of Chanpatia block, now in West Champaran, was received at the station by Acharya JB Kriplani, who then taught English and history at the Muzaffarpur college, and his students.
"Gandhiji's tonga was then pulled to the college by Acharya Kriplani and his students. We have tried to recreate the event," said Prasad.
"When Gandhiji arrived here about a century ago, the then commissioner was in the role of a villain, as he was a Britisher. The incumbent commissioner (Prasad), by contrast, is proud to welcome the participants of the heritage walk", Prasad said.
Bhim Rao Ambedkar Bihar University, Muzaffarpur, principal AN Yadav said the heritage walk was an attempt to give GenNext an opportunity to understand the essence of Gandhi's philosophy as well as the spirit and intent of the supreme sacrifices made by freedom fighters.