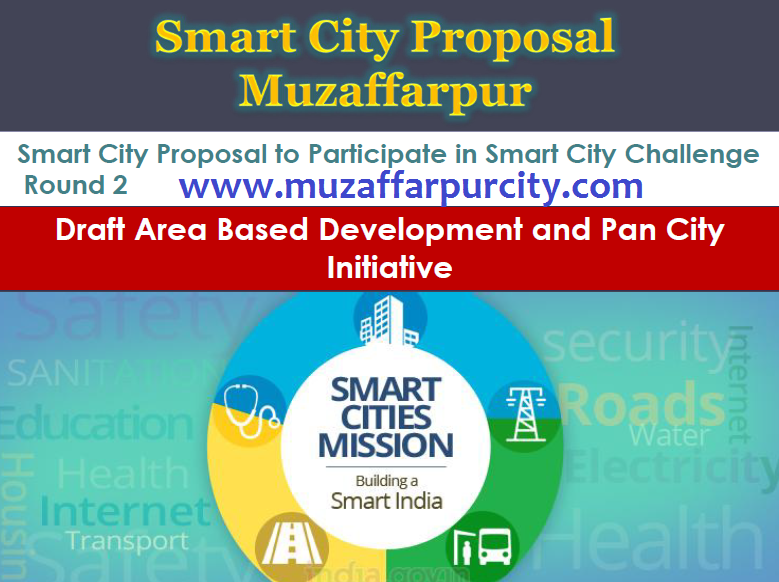 The Municipal Corporation Muzaffarpur is pleased to inform you that our city is under selection process for Smart City MissionRound 2 under the Ministry of Urban Development (MoUD). In this phase, our city has to compete with 64 other cities, enhance our proposal and become eligible for Smart City Round 2.
Sikandarpur Mann area has been selected under the retrofitting development of the smart city Muzaffarpur .We request our citizen from all community, Class and section to provide t
heir comments and suggestions
proposal under the city The city needs to refine its vision, strategic focus, mission and a proposal based upon Gap assessment and suggestions.
Key components of the Area Based Development
1. River Front Development
An upstream Wetland for river cleaningGhats/Eco Park/recreational Park Urban Haat for local artesian
2. Brahmpura Lake Front Development
Rejuvenation of lake edge with added activities Iconic Structure for the city Pedestrian/Green links.
3. Open Spaces and Landscaping
Rejuvenation of Large open spaces with added activities
Landscaping along road edges, new parks and natural drainage channels.
4. Development of Stadium Complex
Better infrastructure for existing stadium New sports complex
Key components of the Area Based Development
4. Development of Central Business District
 De-congestion of Sutapatti commercial area.  Development of new markets
5. Transport Infrastructure
 Road surface improvements, and junctions reorganization  Pedestrian friendly Road sections (improvement)  Smart parking, Intelligent Traffic system, Regalised vehicular and pedestrian zone, energy efficient street lighting.
6. Core Infrastructure  24X7 water supply and dual pipe system  Sewerage system with SBR – STP, Recycling waste water  Drainage system and Smart SWM system.  Power Infrastructure for assured 24 hour supply, underground wiring.
Key components of the Area Based Development :
Smart Informal sector and inclusiveness Better infrastructure for existing setups. New formal vending zones with Smart Kiosks In situ up gradation of slums, mobile schools, Night shelters
7. Smart Buildings IT enabled Smart facilitation center Converting Municipal Corporation Building & Civil Hospital into Green Building. Renovation of cultural institutes , Public Digital library
8. Other Smart components SCADA , Digitalization of Municipal Services, Smart meters Free Wi Fi connectivity at select places. Biodegradable Smart Toilets Use of Solar Power in all government buildings Smart warning system for flood and backflow.
Key Components – Pan-City Proposal • Command & Control Center (CCC) ▫ Setting up of Video Surveillance System ▫ Video Management Software, ▫ Commissioning of surveillance application, ▫ Integration with VMS and training to staff, ▫ Incident Alert System in case of fire, law & order violations ▫ Automated disaster management system
Intelligent Traffic Management System (ITMS) ▫ Establishment of Traffic Control Center (combined with CCC) ▫ Real-time Public Information System ▫ Traffic Mapping on Web and Mobile App ▫ Installation and commissioning of Traffic Signals, CCTV Cameras and Traffic sensors at different designated locations ▫ Dynamic Traffic Signaling System ▫ Incident Detection and Management ▫ Listing of Parking services on GIS Map ▫ Real-time occupancy status of parking ▫ E-Challan system ▫ Automated Traffic Discipline Detection ▫ Public Feedback and Redressal monitoring system ▫ Public Awareness for Traffic Rules and Regulations ▫ Integration of GPS enabled para-transit system ▫ Multimodal transit management system
Download the Report : Muzaffarpur Smart City Project Report