Prepaid Taxi Service from Muzaffarpur Station
Here is the most awaited service to be started from Muzaffarpur to all over Bihar. The Taxi Service from the Junction Muzaffarpur to all over Bihar. The service is going to start from 26th January. The List of all the Routes and Rate has been proposed with the three class of Vehicles as Normal Taxi, AC Taxi & SUVs.
Now, Normal Taxi can be Booked for Rs. 10 per KM.
Normal fare up to 5 KM from Muzaffarpur Junction will Rs. 300/-. No Extra Charge will be imposed for up to extra 3KM. All the Taxi Booking will be done from the Booth at Junction.
| | | | | |
| --- | --- | --- | --- | --- |
| Place | KM | Normal Taxi | AC Taxi | SUVs |
| Hajipur, Sahebganj, Belsand | 55 | 1100 | 1210 | 1320 |
| Sitamadhi, Darbhanga, Samastipur | 60 | 1200 | 1320 | 1440 |
| Pupari, Pkaridayal, Fenhara | 65 | 1300 | 1430 | 1560 |
| Riga, Dalsinghsarai, Jale | 75 | 1500 | 1650 | 1800 |
| Patna, kamtaul, Chourout | 80 | 1600 | 1760 | 1920 |
| Motihari, Dhaka, Chapra | 85 | 1700 | 1870 | 2040 |
| Bhittamore, Sonbarsa, Madhubani | 100 | 2000 | 2200 | 2400 |
| Begusarai, Benipatti, Supaul | 120 | 2400 | 2640 | 2880 |
| Bettaih, Raxaul, Gopalganj | 137 | 2740 | 3014 | 3288 |
| Gaya, Bagaha | 200 | 4000 | 4400 | 4800 |
| Deoghar, Farbisganj | 275 | 5500 | 6050 | 6600 |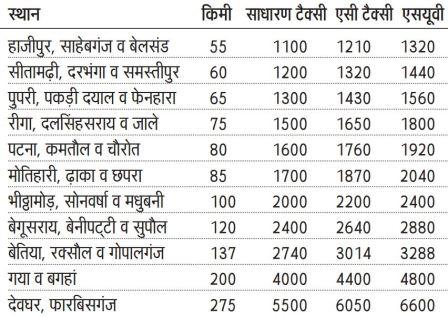 Now Book Taxi from Here only : Book Now
News Reported at NewsDESK Muzaffarpurcity.com